Welcome to the ninth article of Kpopmap's series introducing the must-follow idols posting boyfriend material pictures.
VICTON's ByungChan, SF9's Yoo TaeYang, ATEEZ's SeongHwa, NCT's DoYoung, THE BOYZ's Q, MONSTA X's HyungWon, WonHo, and CIX's SeungHun were previously covered on the series. Readers wanted to see AB6IX's Jeon Woong in our following article (poll), so here it is!
Among idols talented in taking boyfriend material pictures, we can't skip on AB6IX's Jeon Woong. The idol is posting a lot of amazing shots on the group's social media accounts. And they are all worth being your phone background pictures.
When it comes to his pictures, Woong mostly likes pretty backgrounds, full-body photos, and posing with charisma.
One of the reasons why Woong's pictures are so gorgeous is the pretty natural settings, making him look even more attractive. We can only want to go on a trip with him looking at this blue sky and nature. 
No matter the season, he always posts eye-catching pictures. He even looks ethereal in winter with a snowy background. 
Woong knows what it is to take handsome pictures and makes excellent use of his talents. His photographs are well-thought and planned for the best angle. 
Even if the idol posts selfies, he usually uploads a lot of full-body pictures. Fans only want more of his head-to-toe photos because he makes hearts sway with his perfect model poses and great body ratio. 
But that is not the only reason why fans are asking for more full-body shots. Woong is a fashionista so fans like to have a better look at his daily or stage outfits. 
When it comes to fashion, he is one of the idols who looks the best in a beret/hat. That is impossible to deny.
Moving on, no one can escape Woong's sexy and charismatic aura. Naturally, he makes sure to capture these vibes in the camera.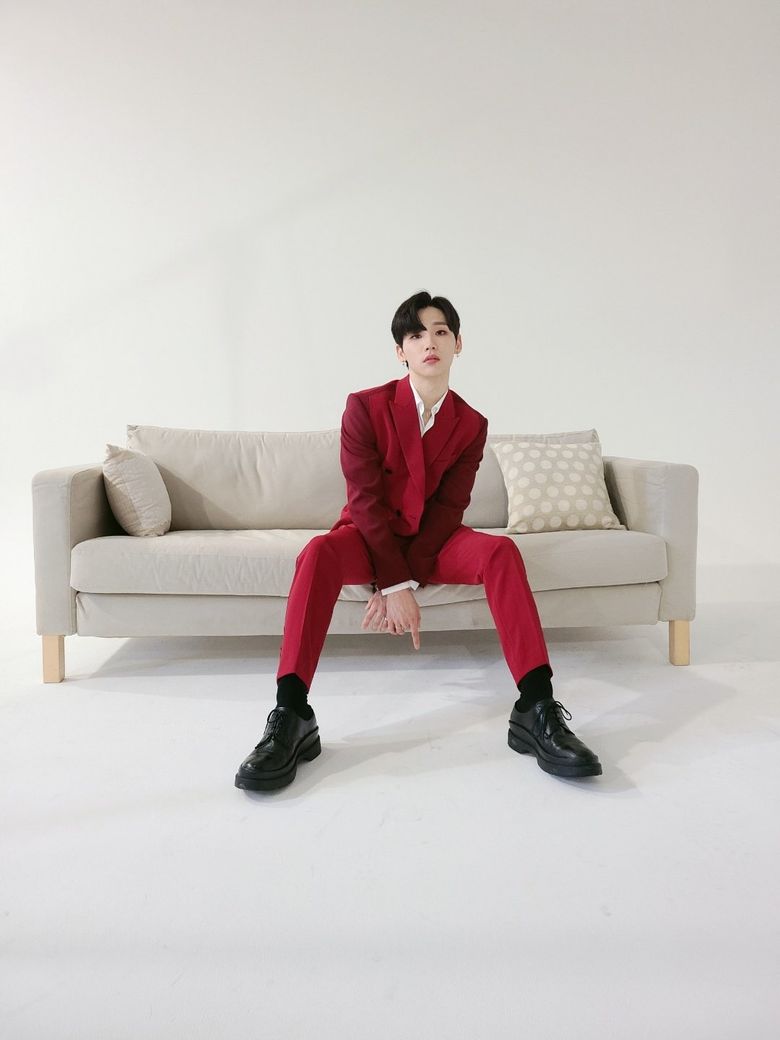 Woong also works hard at the gym and posts pictures of his well-defined abs.
But he does not forget to post cutie pie pictures where he closes his eyes.
We can't miss on talking about his soft-looking selfies too.
Here, he is posing with flowers giving him a prince charming vibe. 
We are closing this article on this makeup-free and perfectly clear skin picture of Woong. Because… it is a stunning picture that everyone needs to see. 
AB6IX's latest comeback was with their fourth mini-album "MO' COMPLETE : HAVE A DREAM" and title track 'CLOSE'. In August, they released a remake of the song 'Walking In The Rain' (Verbal Jint feat. Bumkey) as part of the "TEN PROJECT Part.4". 
If you are new to Jeon Woong, you can check his fan cam for 'CLOSE' here and he was recently featured in the song 'LET GO' by NOA. Woong and Golden Child's JangJun are doing the KakaoTV show "Ssap Possible". 
If you are not following Woong, it is time to do so. You can follow him on AB6IX's Instagram and Twitter. 
Kpopmap is listening to readers' opinions. Let us know yours by answering the poll below.
Who would you like to see in our next week's article?
Sep 03, 2021 ~ Sep 06, 2021 (KST)
※You can vote multiple times without sign in.
The previous weeks' poll choices also included NU'EST's MinHyun.
Important notice: the vote is only deciding who will be covered first (next week). Everyone on that list will be covered in the series. You can suggest idols with boyfriend material pictures in the comments as well.
Note: the photos used in this series were taken after April 2020.